Stiga XTR Pro outdoor table tennis is one of the world's favourites. Customers praise its unique composite structure, which provides a high-quality surface that is difficult to deform (and us too).
This ping pong table has many features to be an outdoor ping pong table available. It boasts a rust-resistant and warp-resistant design. It comes pre-assembled, which makes the setup a snap.
This s a great Ping-Pong table, and it's one of our top three most popular outdoor tables. Moreover, we'll go over some of the characteristics that make it one of our favourites in this review.
Experiences with Stiga XTR Pro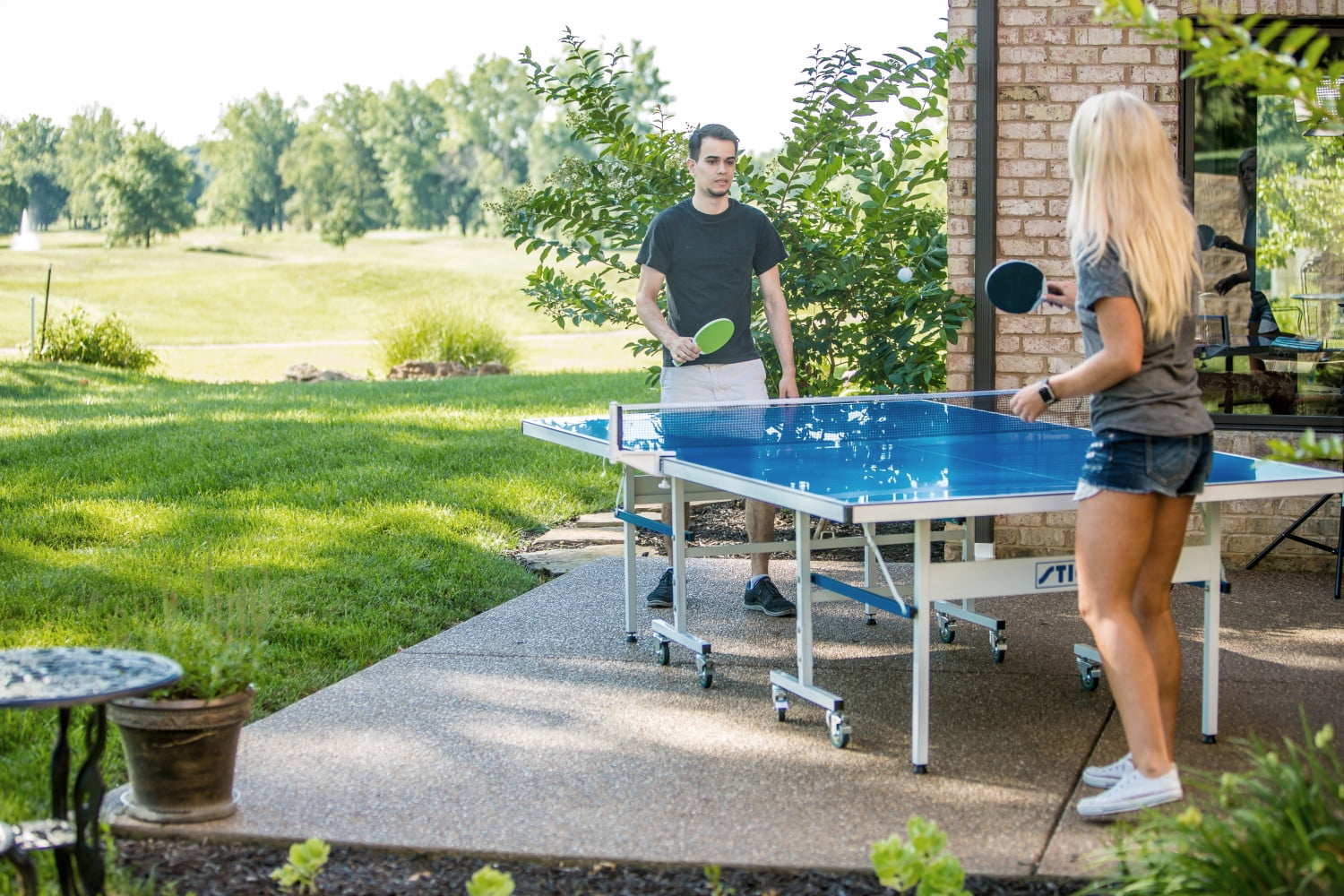 Enjoy table tennis outside instead of moving furniture to accommodate a table tennis table inside your house. The STIGA XTR Outdoor table has weather-resistant materials, including aluminium, exterior grade powder coating, and galvanized steel for a waterproof, rust-free, and sun-resistant table, making it ideal for year-round outdoor storage in any environment.
This table is 95 percent pre-assembled, with only one simple step remaining, allowing you to start playing in under 10 minutes.
Who the Stiga XTR Pro is for
It is for Ping-Pong lovers! Other variants include a one-piece folding construction with wheels for easy transportation. It is for everyone because it's easy to manage because of its lightweight structure. Ping pong tables may weigh up to 300 pounds in some cases. However, heavier tables are more durable, so that's something to think about.
This table for tennis is designed for serious game-changing players. This table is constructed for a long time and years it will remain good even if you play every day.
Stiga XTR Series Table Tennis Table: Specifications
| | |
| --- | --- |
| Brand | STIGA |
| Colour | Blue |
| Material | Aluminium |
| Product Dimensions | 63 x 57 x 4 inches |
| Sport Type | Tennis |
| Assembly Required | Yes |
| Base Material | Aluminium |
| Frame Material | Aluminium |
Stiga XTR Pro: Features
A few characteristics of the XTR are worth noting and considering before purchasing a new table. Let's look at a couple of them.
Aluminum
The aluminium composite top of the XTR Pro provides excellent playability while also delivering all-weather performance.
Waterproof
The STIGA XTR is designed to be the ideal outdoor dining table. Because of its longevity, it is ideal for any backyard, deck, garage, or porch.
Rust-Free
They were designed and built specifically to endure the weather.
Sun Protection
The aluminium composite top provides excellent playing and all-weather performance.
Playback and Independent Halves
Each table half has independent caster beams. These allow the two halves to be entirely separated and multi-use or utilize the replay position to hone your abilities before your next battle.
Storage Made with Composite Materials
With self-opening legs and three positions, it effortlessly folds into ultra-compact storage and position in seconds "casters with ball bearings and locks.
Set of Net and Post
The table has and quality 72 "All-weather net and post set that can be erected and disassembled in seconds.
Height Adjustable
The tabletop is supported by 1.5″ square steel legs with 2″ adjustable leg levellers to guarantee your playing surface is well-protected and level even if the flotation system fails.
The tabletop is 6mm thick.
When you think about an outdoor table tennis table, seek one to withstand the elements. Indoor tables are particularly vulnerable to moisture and water damage. However, if they get in touch with water, they can rapidly damage.
On the other hand, outdoor tables have different materials and have seals to keep moisture out and prevent the table from warping.
Great Performance
1.25″ thickness 1.25″ thickness 1.25″ thickness 1.25″ thickness 1″ 1″ The heavy-duty legs have an autonomously opening mechanism for greater convenience and safety when you open or fold the tables. Leg levellers with adjustable height are included in the legs to guarantee a sturdy, level playing area on any terrain.
The table has three legs for increased mobility and flexibility wheels with ball bearings that move smoothly and lock into position for safety.
This table has a replay mode for solo practice and the ability to detach each table half and utilize it as a free-standing multi-purpose table for eating, playing cards, and more. After you've finished playing:
Fold each table half into an upright position.
Secure it with the red safety latch.
Roll it to the chosen storage spot.
The XTR's two table parts nest provide together to form an ultra-compact foldable profile that fits into any area.
The frame is strong, robust, and waterproof.
Considering the budget, the XTR's undercarriage is quite robust and durable. The table is supported by 1.25′′ (32mm) welded steel legs. The legs include a self-opening function, which means they open automatically when the table is unfolded. The adjustable height levellers on the ends of the legs ensure that your table is always level, no matter where you place it.
Pricing
The Stiga XTR Outdoor Table Tennis Table costs $405.04. It is a fantastic steal compared to rivals who charge $100-200 more for roughly the same quality. It's similar to the Joola Nova Outdoor Table Tennis Table. It is one of the greatest bargain outdoor tables available, and recreational players will like it.
After playing, fold each table half into an upright position, secure with the red safety clasp, and roll to the preferred spot for easy storage. The Stiga XTR is truly designed for usage outside. If you want a low-cost, well-made outdoor table, this is the one for you.
Stiga XTR Pro: Pros and Cons
Pros
6mm solid tabletop — a 6mm thick tabletop surface offers a good and level bounce throughout the table. It is supported by a 1.5′′ sun and weather-resistant tubular steel apron.
The undercarriage is robust, with a weatherproof, rust-resistant structure and height-adjustable legs to provide a level playing area.
Easy to fold — with a self-opening leg system that deploys automatically when the table is unfolded, it's a breeze to fold.
This is the perfect table for your outdoor game nights!
The steel apron has sun and water resistance which makes it practical to use outdoors.
Have one of the most durable undercarriages you can buy because it's weatherproof, making this setup very sturdy.
It folds up easily with levelers that keep everything even so players always get an excellent experience when they're playing on this surface.
We found assembly was easy thanks to its clamp-style netting system and playback feature (you'll be able to replay shots after each match).
This package comes at such an affordable price point too – we promise you won't regret adding this set-up as part of your home or office party kit!
Cons
Not the thickest table on the market — there are thicker tables that have greater bounces.
Heavy – This product is quite a bit heavier than similar products.
Cover available separately – To preserve your table in the best condition possible, we always recommend investing in a waterproof cover.
Stiga XTR Pro: Buying Guide
You have to decide first whether you're playing your table tennis table on or outside. Both kinds of tables may be purchased in shops so that you need to know where to get them.
Suppose you plan to use the table outside for an indoor table with enhanced playability. However, it would help prevent this because an inside table may twist in full sunlight over long periods. Bouncing is one of the most important characteristics of ping pong tables.
If you have a limited amount of room or like to move your table about, think about how it folds up so you can store or transfer it as needed. Some are also lighter than others, making it easier to carry them about or transfer them in a vehicle across town.
Some ping pong tables are designed specifically for serious players, whether they're preparing for a competition or want to compete. However, some are specially designed for clubs, although you may also use them at home. Ping pong tables designed particularly for informal family play are also available. Competition-size ping pong tables are larger than recreational-size ping pong tables, providing you with a greater playing surface area.
Real Customer Reviews
It is made of aluminium and steel to resist a variety of weather performances. It arrives almost completely constructed, puts up quickly, and folds up simply for storage.
This table's smooth and thick surface provides a good ball bounce, enhancing your performance. This beauty Table Tennis Table is a long-lasting table tennis table. The tabletop maintains its level at all times by 1 1/4 inch steel legs that keep the frame together.
Unlike some other tables, which require you to purchase the net and post separately, the Stiga XTR Outdoor Table Tennis Table includes both net and post when you purchase the table.
The bounce of the STIGA XTR Outdoor is that of an outdoor table, which a big drawback is. This ping pong table was simple to put together, but Amazon doesn't have much more to say about it.
We have a table for ping-pongs from Kettler, which is not especially in comparison – the bounce is subpar, split half (two sides of the table with no joints) is a headache that is constantly in line, Moreover, the components of the table twister seriously after just a few uses just by regularly folding up and down. Because of the bent metal components, the table is practically unusable after only a few usages.
Worth Buying Verdict
If you choose to place your table tennis table into the backyard and leave it, your options will be few. All this, since most tables for ping pong work to play inside, you want one that can withstand the pieces.
In between games, it might not be easy to keep track of all your ping pong balls. The innovative corner ball holders on the JOOLA Inside Ping Pong Table conveniently store your balls until you're ready to utilize them.
However, certain versions are for that purpose if you need to keep your ping pong table outside. These models frequently feature a high-gloss top, which might cause glare on extremely sunny days.
Is it User-Friendly?
When you're out of companions, this XTR provides you with the option to practice alone. It's as simple as lining up one half against the other. By bouncing the ball against the vertical side of the table, you may keep yourself occupied playing ping pong.
This XTR table unit comes nearly entirely pre-assembled. Attaching eight 3′′ caster wheels to the table makes it simple to put together.
It has an aluminium composite top that resists rust, is sun resistant, and does not deform when wet over extended periods.
A strong powder-coated steel apron and frame support the table, which has a few useful convenience features. It also is a mid-tier weatherproof outdoor table that has been designed to endure extreme temperature and moisture fluctuations.
How to Use Stiga XTR Pro?
Each side of the table features four 3 inch wheels to provide you all the flexibility and mobility you need to move the table into place easily and safely. When in storage or in the middle of a game, you may lock the wheels in place to prevent them from moving inadvertently.
Fold it, unfold it, clean it, and avoid sunlight.
How to Maintain Stiga XTR Pro?
Fold one side up and lock the wheels on the flat side. On the flat side, mount the net. It's a lovely playing surface that's as attractive as it is tough. The surface is 6mm thick, which is quite normal for outdoor tables in this price category.
The tablings have a pair of solid steel legs of 1.25 inches, with good polish work to avoid corrosion. For additional stability and changeable levels, the structure of the table features swept cross braces on either side to allow uneven outside surroundings.
Why is it important to buy this product?
The aluminium/composite tabletop is the STIGA XTR Outdoors's best feature. It's a lovely playing surface that's as attractive as it is tough. The surface is 6mm thick, which is quite normal for outdoor tables in this price category. It has a robust 1.5-inch tubular steel support for a good, consistent bounce.
The table's structure has welded cross bracing on each side for further stability and adjustable leg-levellers to accommodate uneven outdoor terrain.
The bounce of the STIGA XTR Outdoor is that of an outdoor table, which a big drawback is. This is prevalent with most outdoor tables with aluminium/composite tops. The same components that allow the table to endure harsh weather conditions also cause the bounce to feel "tinny" and different from a regular indoor table with an MDF top.
It may take some time to learn how to use it to the unusual feel of this sort of table. However, once you do, it will seem natural again. However, all weatherproof outdoor tables save the most costly and not specific to the STIGA XTR Outdoor.
Stiga XTR Pro Alternatives
Photo
Title
STIGA XTR Professional Table Tennis Tables – All...
STIGA Advantage Competition-Ready Indoor Table Tennis...
STIGA Advantage Competition-Ready Indoor Table Tennis...
Assembly
10-Minute QuickPlay Assembly
10-Minute QuickPlay Assembly
Photo
Title
STIGA XTR Professional Table Tennis Tables – All...
Photo
Title
STIGA Advantage Competition-Ready Indoor Table Tennis...
Assembly
10-Minute QuickPlay Assembly
Photo
Title
STIGA Advantage Competition-Ready Indoor Table Tennis...
Assembly
10-Minute QuickPlay Assembly
Some Real FAQ's Asked by People Who Already Buy Stiga XTR Pro
Where is this table made?
The table is made in China. However, this company is from Sweden.
Difference between this and Stiga Vapor is that is about $100 cheaper
Except for the paint colours on the frame, there are no differences.
Does the table come assembled?
No, this table doesn't come that way. Some is putting together necessary.
Can this outdoor table withstand desert heat and dryness?
We don't recommend that at all! If you are looking for an outdoor table tennis table check this guide.
Is it competitive dimensions?
It appears to be a high-quality table. We have it outside on a terrace. It looks to be a high-quality table that will last for a long time.
How does net fit?
Yes, it works fine, by the way.
Does this Vapor model have self-opening and self-closing legs?
This table comprises two 1/2 tables that connect at the net, and the net system holds the two 1/2 tables together.
Now, if you were to set this up for playback mode, which would require one of the 1/2, tables to be upright, the table's rear legs fold into the table, but only manually. If you wish to store the tables again, both 1/2 tables will fold up, and the table's hind legs will fold into the frame. The trolley system's legs do not fold since they carry them from point A to point B.
How to Level the table?
There are four levelling screws with rubber feet on each that you must adjust.
What is the approximate weight?
According to the website's specifications, the weight limit is 75kg. That is the package's delivery weight.
How wide is the table, including the net?
The table is 60 inches. However, it is 72 inches wide, including the net.
Could I use the top surface on a pool table (for play during winter months)?
The table's entire top is around 2 inches thick. The playing surface is approximately 1/4 inch thick. I think the table is a lot of fun to play with.
Can this table be left uncovered in the yard in the rain?
The answer is true if you obtain the outdoor model we bought—the business guarantees outside quality. You can use it on the porch without trouble. However, remember that this ping-pong table has quality materials and can stand it.
Does it come with a net and paddles?
It comes with the net but without paddles.
What is the width at the base when the table is folded up?
You can move it in 2 parts, and it's easy to go in and out of the home and shop. It's easy to move it. But it's quite tall — at least 6ft plus it folds.
Can it be moved into sections (for example, upstairs)?
Sure! No problem. It is easy to fold.
What can be done about the glare?
Place the table beneath the trees, relocate it to a porch indoors, use it halfway from the sun or play in the sunshine. There was nobody who objected. Use light glasses of sunlight. This is an issue with the sun, not a problem with the table.
Can it be left outside in all types of weather? Will the sun damage it?
This table works for outdoor usage but must store it if the weather is poor. The sun does not destroy the table, nor does it affect the moisture.
Should I buy a cover for this?
No. It includes one, BTW.
How thick is the playing surface?
The XTR has a top space of 6mm.
What does the extended warranty cover?
This table comes supplied with the manufacturer's one-year limited guarantee.
Bottom Line
The STIGA XTR is a great investment for your home and family. The XTR provides you with the finest bounce for your outdoor game, as you would expect from a reputable brand like STIGA.
The low-cost ping pong table is so useful for recreational or competitive play. You can't go wrong with this table for solo, one-on-one, or team play. With a one-year guarantee on this table, STIGA stands behind its products. If the table comes in less-than-perfect condition for whatever reason, the firm will promptly replace it.
However, it is not a good table for competitive players who wish to play at the same level as high-end indoor tables. However, the STIGA XTR Outdoor is a nice outdoor table tennis table with rapid construction, a strong frame, and a durable playing surface. This makes it one of the greatest choices you can make.
STIGA XTR Professional Table Tennis Tables – All...
PERFECT ADDITION TO ANY OUTDOOR PATIO SET - Durable outdoor table tennis table perfect for the patio or garage
BUILT TO LAST - Specifically designed and manufactured to withstand the elements.
ALL-WEATHER PERFORMANCE - Aluminum composite top offers great playability with all-weather performance
QUICKPLAY DESIGN - 10-minute QuickPlay design comes 95% preassembled out of the box for quick and easy setup
SIMPLE STORAGE - Effortlessly folds into an ultra-compact storage position in seconds with self-opening legs
Mark is a Bloomberg BusinessWeek-based digital entrepreneur, blogger, and table tennis enthusiast. He is a former professional table tennis player with the career-best USATT ranking of 2689. He is also an ITTF Level 3 certified coach and conducts weekend coaching programs in and around the New York area. Mark is also a pool player by passion. He was first introduced to the game of pool at a very early age by his granddad. He had a natural knack for the game and quickly learned the ropes, and by the time he was 15, he was already participating in local leagues. He aims to make it into the APA league someday! Mark started his own blog by starting Indoor Games Zone, where he loves to share his years of experience with the audience. He covers ping pong, pool, air hockey, shuffleboard, and foosball.
Ping pong
Pool
Air Hockey
Shuffleboard
Foosball
Last update on 2022-05-12 / Affiliate links / Images from Amazon Product Advertising API